Florida Water Sports

Thanks to Florida's climate, you can take part in many watersports and outdoor activities all year round, make the state a top destination for all sports enthusiasts, from golfers and tennis players to canoeists and deep sea divers; some people even base their entire vacation around the sports opportunities available. Water sports of all kinds are well represented, with wonderful beaches on both the Atlantic and Gulf coasts.
Florida offers some great venues for water skiing, personal watercraft, wake boarding and more! Most of these activities are offered at Florida's resorts; water skiing can also be enjoyed on freshwater lakes and inland waterways.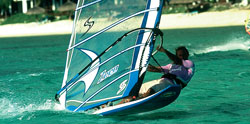 Windsurfing


A growing Florida water sport is windsurfing (or sailboarding). Almost anyone can learn this sport with proper lessons from a qualified instructor with the appropriate beginner's equipment. And, like everything else we do on and in the water, precautions must be taken to avoid injury.

Windsurfers should dress appropriately:
Wear a personal flotation device (PFD), even if it is not required.
Consider a wetsuit to avoid hypothermia if water or air temperatures are below 65 degrees Fahrenheit.
Tell someone where you are going and when you expect to return. Give him or her instructions on what to do or who to call in case you are overdue.
Windsurfers should not become over fatigued:
Take breaks often, and limit sessions to about an hour.
If feeling week, furl the sail; place it on the board; lay stomach-down on the board and hand paddle or stroke to shore.
Be aware of hazards; even those that exist during excellent weather conditions. The glaring sun of a bright day can limit vision and cause eye strain. Remember your sail can block your view of approaching boats.
Always be on the lookout for boats, avoiding them and their wakes. If operating in open water, be careful not to stray too far from shore.
Safety Tip
When windsurfing or paddling, consider both the water and the air temperature when deciding to wear a wetsuit or other cold water protective clothing.
Kitesu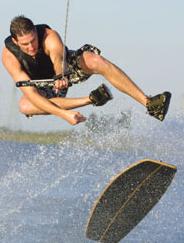 rfing
Florida Kitesurfing Association
P. O. Box 4471
Boynton Beach
(561) 417-5866
Fax: (561) 737-9975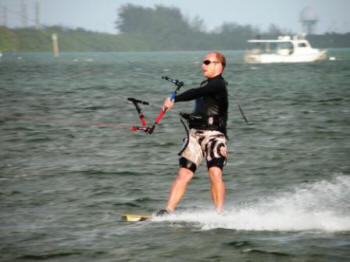 Beginner Wakeboarding Tips
Wear a Lifejacket
Always wear a personal flotation device (PFD) when you are in the water. Search "Safety Equipment & Clothing" for where to buy.
Use a Spotter
In addition to the driver of the boat, a second person, known as a "spotter" should always be onboard to inform the driver of your position and keep an eye out for other boaters.
Put your best foot forward
Before you go out on the water for the first time, one of the most basic wakeboarding tips to remember is to decide which foot you want to face forward. The foot you choose should be the foot you always intuitively place forward, whether it's because you're about to kick a ball or you're regaining your balance.
Use a beginner wakeboarding stance
Using a beginner wakeboarding stance will make the board easier to control and navigate. The easiest stance for beginner wakeboarding is to place the back binding far back towards the end of the board and align it at zero degrees, so that the rider's weight is able to press directly on top of the rear fin. The front binding should be at about a 15-27 degree angle, slightly pointed towards the front of the wakeboard.
Use a shorter rope
Another helpful beginner wakeboarding tip is to use a shorter rope that makes it easier for beginners to get up and out of the water. Our recommended length is somewhere between 30 and 50 feet.
Stay close to the board at first
Keep your arms and knees tucked in and stay crouched down until you are fully out of the water. Then, try standing slowly and deliberately so that balance and weight distribution are evenly maintained.
Distribute your weight correctly
When trying to get up and out of the water, most of your weight needs to on your front foot (about 60%). However, once you are in a standing position, remember to shift the weight back.
Keep the tow handle low
Beginners will find it easier to stay up if the rope handle is held in a lowered position that is parallel to the water (instead of perpendicular, as is common with waterskiing).
Use the correct boat speed
Be sure to remind your driver that wakeboarding requires less boat speed than waterskiing or other water sports. The maximum recommended speed should be around 14-19mph.
Take your time
Our most important wakeboarding tip is to take your time, stay relaxed, and remember that practice makes perfect! Don't become frustrated if it takes several tries or more to get up your first time. Mistakes and spills are a normal part of the learning process.