Jet Skis & Waverunners
(also called Personal Watercraft or PWC's)


There's Great PWC riding in Florida
Riding a personal watercraft (PWC) is one of Florida's most popular boating activities. A PWC is a small vessel which uses an inboard engine powering a water jet pump as its primary source of propulsion, and is designed to be operated by a person or persons sitting, standing, or kneeling on the vessel rather than inside the vessel. The U.S. Coast Guard includes PWC in the group of inboard boats, less than 16 feet in length.

PWC Basics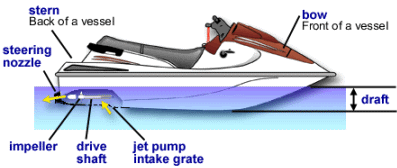 Stern: Back of a vessel
Bow: Front of a vessel
Draft: Depth of water needed to float a vessel
Intake: Opening in the hull that draws water toward the impeller
Intake grate: Screening cover over the intake, which prevents large debris from entering
Drive shaft: The long stem connection between the handlebars and the impeller
Impeller: Device used to force water in a desired direction under pressure
Steering nozzle: Device used for directing the stream of water to the left or right at the stern of the PWC, which steers the PWC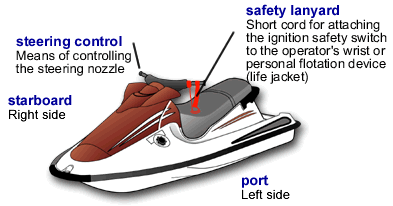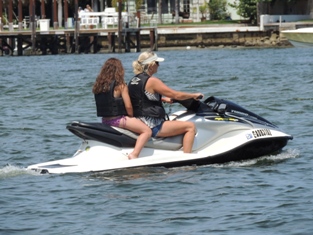 Know Your Personal Watercraft
PWC are propelled by a jet of water squirting out of the back of the machine. Directing this jet of water steers the craft. Letting off of the throttle slows the PWC and reduces the ability to steer.

PWC's are subject to all of the same laws and requirements of any other boat plus a few laws specific to PWC.

As manufacturers continue developing engines and designing enhancements, many PWC models now include added comfort and convenience features not previously offered. Some of these include tow hooks, boarding steps, GPS units, side mirrors, increased storage, reverse throttle and engine cutoff lanyard cords that attach to the operator's wrist or life jacket.

Did You Know?
Florida law requires anyone 21 years old or younger to take an approved boating safety course and earn a boating safety ID card to operate a boat with 10 horsepower or more. Boaters 21 and under must carry the ID card and a photo ID while operating a powerboat or personal watercraft.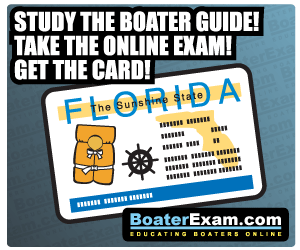 Florida Boating License Online!
This online boating safety course is approved by the Florida Fish & Wildlife Conservation Commission. Successfully completing this course will allow you to obtain the official Florida Boating Safety Education ID Card. The boating safety course and exam are free — you only pay when you pass!



Some text on this page provided by the Personal Watercraft Industry Association.