Canoeing in Florida

Florida Has Great Places To Canoe
New to the area? Use our Florida State Map

Northwest Florida Canoeing
Blackwater River is the only sand bottom river in the nation! You can paddle along the sandy white banks and calm waters of Blackwater River in crystal green water. Cedar trees and vibrant wildflowers line the banks along with native plants and a great deal of wildlife. Topsail Hill State Park is also a great place to canoe on the Gulf Coast. Western Lake in Grayton Beach State Park and Rocky Bayou State Park in Niceville are also recommended.

Coldwater Creek, near Milton (Panhandle)

Search the Pensacola area for canoe outfitters here.

Alafia River Paddling Trail, near Tampa in Hillsboro County. This is a 13-mile trip that starts in Alderman Ford County Park on SR 39.

Aucilla River Paddling Trail, east of Tallahassee

Blackwater/Royal Palm Hammock Creek in Collier-Seminole State Park near Marco Island

Bulow Creek Paddling Trail, Flagler Beach (northeast Florida)

Chipola River Paddling Trail, near Marianna (north Florida)

Econfina Creek Paddling Trail, near Panama City

Jonathan Dickinson State Park - This lush habitat of swamps and mangroves is named after a man who was shipwrecked near the park in 1696. It includes a stretch of the Loxahatchee River and is a popular spot for canoes and kayaks.

Estero Bay & River Paddling Trail, near Estero (Ft Myers)

Fisheating Creek Wildlife Management Area, just west of Lake Okeechobee

Hickey's Creek Paddling Trail, near Fort Myers

Holmes Creek Paddling Trail, near Vernon (Panhandle)

Little Manatee River Paddling Trail, east of Tampa

Loxahatchee National Wildlife Refuge - This 221-square mile park contains the most northerly portion of the Everglades and if you bring your own canoe, you can travel the 5.5 mile canoe trail.

John U. Lloyd Beach State Recreation Area - Dania Beach's barrier island includes a scenic mangrove-lined creek that runs through the middle of the park. You can rent canoes to explore this stretch of land that connects on the northern tip to Port Everglades.

John D. MacArthur Beach State Park - Located at the north end of Singer Island near West Palm Beach, here you'll find mangroves and hammocks with winding flats available for kayaking and canoes.

Pithlachascotee River Paddling Trail, New Port Richey

Santa Fe River Paddling Trail, near Fort White

Yellow River Paddling Trail, near Crestview (Panhandle area)

Wacissa River Paddling Trail, Wacissa

Withlacoochee River South Paddling Trail, Ocala



The Florida Department of Environmental Protection offers a website called Florida Greenway and Trails Guide This interactive site allows users to click a region to find canoe trails throughout the state.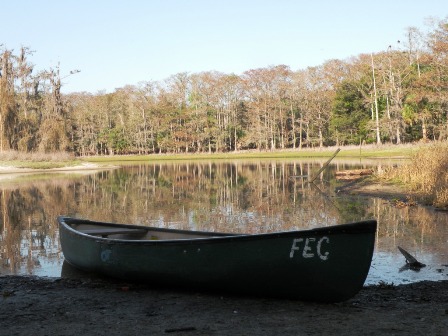 Regulations & Safety
Those who use a canoe or kayak should be aware that the minimum safety requirements apply to them just like any other vessel. A wearable life jacket for each person on board and some sort of efficient sound producing device (such as a plastic whistle) are required by both U.S. Coast Guard and state law. In addition, navigation between sunset and sunrise requires that a white light is available, and is to be displayed in sufficient time to avoid a collision. The requirements for vessel registration will apply to any canoe or kayak that is propelled by mechanical means (electric or gas motors).
Canoe Capsizing
If you capsize, float on the upstream side of the canoe.
You can be crushed on the downstream side if you run into an obstruction.
Do not attempt to stand or walk in swift moving water. A foot could become entrapped between submerged rocks and the current can pin you under.
Float on your back with your feet and arms extended. Float with your feet pointed downstream to fend off rocks. Don't fight the current. Use the current to backstroke your way to shore.
Getting In and Out of a Canoe


You can quickly and easily master getting into and out of a canoe without getting wet if you remember the following important points:
Keep your center of gravity low, and move slowly and deliberately.
Transfer your weight slowly from shore to the bottom center of the canoe.
Board your canoe directly into your paddling position whenever possible.
For maximum control and stability always kneel in canoes, even though some canoes have seats.
To get out of a canoe, simply reverse the steps described above.
Safety Tips


Paddlers need to follow the same safe practices as any other small boat operator. When paddling, you should:
Know how to paddle or swim in tremendous currents and be an experienced swimmer. Use the proper safety equipment & clothing.
Never paddle alone. Two canoes with two canoeists each is recommended. Three canoes with two canoeists each is even better.
Do not overload the canoe; tie down gear; and distribute weight evenly.
Check your canoe for leaks.
Carry the proper charts & maps. Map a general route and timetable when embarking on a long trip. Arrange for your vehicles to be shuttled to the takeout.
When approaching rapids or low head dams, go ashore well upstream and check them out before continuing. Be aware of any dangers ahead. Steer clear of drop offs and dams. Carry your craft around low head dams.
Stay away from strainers. Strainers are river obstructions that allow water to flow through, but which block people and boats and could throw you from the boat, damage it, or trap your craft. Strainers may be found in the form of overhanging branches, log jams or flooded islands.
If canoeing on a lake, watch the weather and stay close to shore. Head for shore if the waves increase.
If the water is cold, take all necessary precautions to avoid hypothermia.